Fun + Function: Make Cleaning and Organizing a Family Affair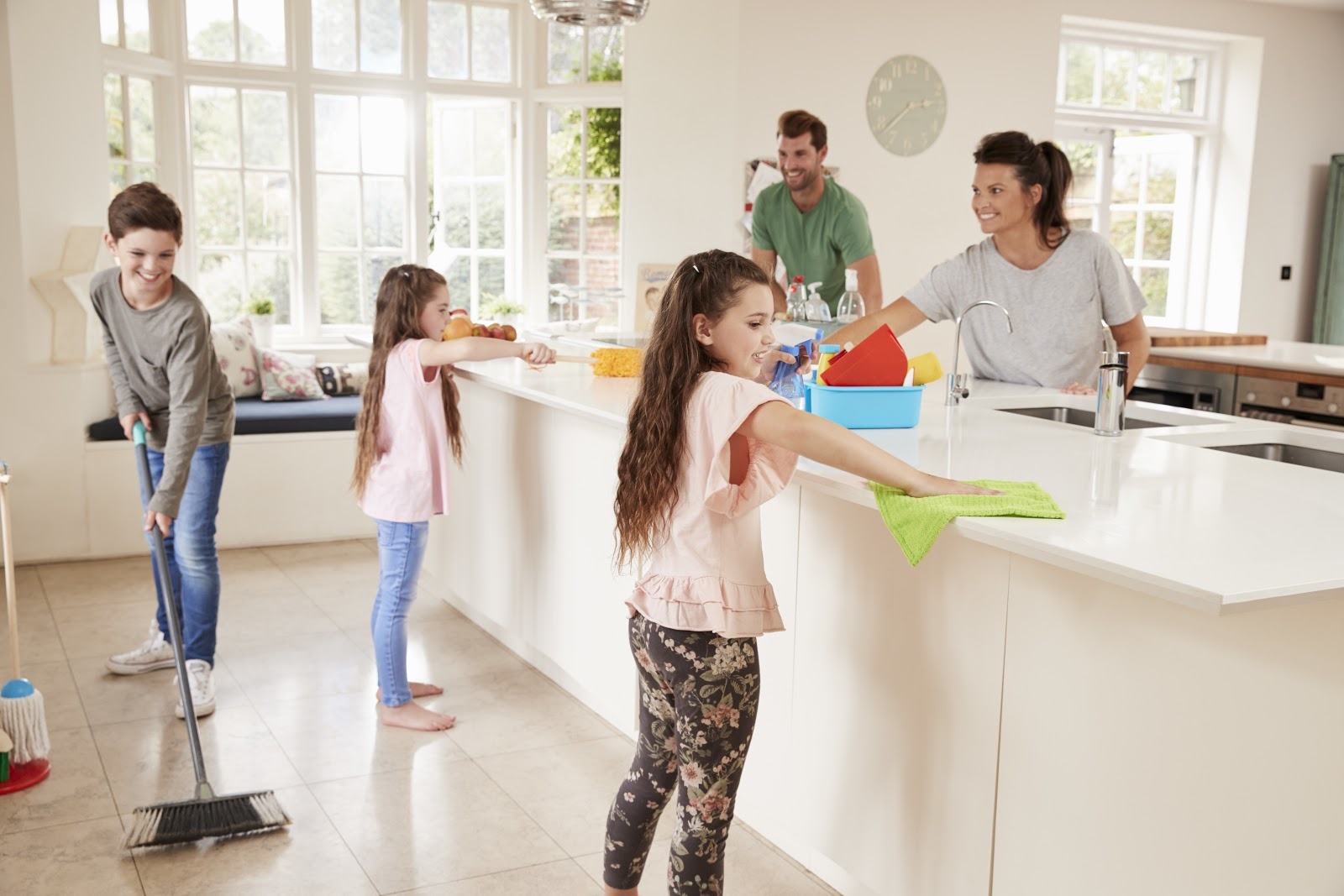 May is such a busy month, isn't it? It's a season of logistics for families, both a landmark for the school year ending and a launching pad for making summer plans.
Perhaps it's no accident that the two holidays honoring parents fall in May and June. It's just in time to remind us to show our gratitude for all that moms and dads do -- especially in busy annual crunch times like this.
If you're reading this post, it's likely that you're the mom or dad in charge of ring-leading, herding, and generally wrangling your family members to fall in line with your attempts to get everyone's stuff and schedules organized.
We at Your Austin Storage know the drill! There are graduation parties, summer jobs, family vacations, and summer camps to coordinate and add to the family calendar. It can all feel so overwhelming!
If only we could freeze time and carve out a rare day to have everyone at home together. And if we're being honest, what we most want as parents for Mother's Day and Father's Day is simply the gift of uninterrupted time with our families. That, and a clean, organized home to enjoy it all in.
Enter the Family Organizing Day, a day to rally the troops to get your family life and surroundings under control in one fell swoop, and have some fun family bonding time in the process.
We know families who have a dedicated monthly or bi-weekly organizing day that serves two purposes: It brings order to the environment and scheduling, and it also brings the family together for some quality, grounded, and productive time at home. It also gives your family the opportunity to operate as a team toward a common goal, and get everyone on the same page.
If you're not sure where to start, follow our six-point plan to get the most out of your Family Organizing Day:
1. Plan Ahead
If you have younger children, set expectations that Saturday (or Sunday) is going to be a family day where everyone helps get the house in order. Get them excited about how they can be good helpers. If you have older children, you'll need to make sure they clear their schedule to be home. If you need to include a calendar-planning session, ask them to bring any relevant school or extracurricular papers to discuss with you. It also helps to set a stopping time instead of keeping the day open-ended. This helps you all work together to complete everything in time, or even ahead of time. (Make it a family challenge!)
2. Make It Fun
A day of getting your ducks in a row doesn't have to be boring or tedious. It may not be the most exciting thing in the world for your kids, but adding some fun elements to 'gamefy' the day will help. Turn on music, and take turns picking songs. Or, run a contest to see which kid best completes their tasks. Prizes could include an extended bedtime or a special app purchase. You can also kick off the day with a fun breakfast, or set up a snack station stocked with your family's favorite treats.


3. Make A Chart
At the start of your day, sit down and make your list of everything that needs to get done -- cleaning, organizing, and scheduling/planning. You likely already know what you want to accomplish, but creating the list with the entire family gives them a sense of ownership and buy-in. Younger children especially respond to a larger chart instead of a list, where they can better visualize the to-do's and check them off when done.
4. Play to Your Strengths
If you assign tasks based on what you're each good at, then many hands really can make light work. Do you have one child who loves to vacuum, spray-clean counters, or fold towels? Then make that their job. Or, it may make more sense to assign tasks by zones. You know your family and your home best. Just do what makes sense to divide and conquer, and get the job done.
5. Go for Short Sprints Instead of a Marathon
Set mini-goals throughout the day to make the workload more bearable. And mix it up! For example, after the laundry is folded and put away, throw a short family dance party. If you're getting antsy indoors, switch to an outdoor task for some fresh air. Or, schedule a family calendar update session, refreshing beverage and snack in hand, in between the more laborious tasks.


6. Celebrate!
Plan a way to celebrate your accomplishments of the day. Take a congratulatory walk through the house to survey all your hard work. For a little fun, you can even have the kids act as tour guides and record their tour (great for sharing with grandparents). You can also celebrate with your family's favorite take-out, because you certainly won't feel like cooking after your long day! Top it off with ice cream sundaes and a movie night. You've all earned it.








Keep It Going
Once you have the house in good working order and you feel a bit more on top of things, we recommend these family organization apps to make your summer schedule (including scheduling a consistent Family Organizing Day) easier to manage:
Cozi Family Organizer: Keep events and activities all in one place
Mothershp: Manage family tasks and rewards
Chore Monster: Make chores fun for kids!
And, as you keep up with the cleaning and organizing throughout the summer, you may find that you need space to store extra items that take up too much space at home. Your Austin Storage provides many families with a place to store overflow and seasonal items, sports equipment, and more. Then, when summer is over, it's easy enough to transfer your summer items -- camping gear, hammocks, lawn games, kayaks and bikes, deck furniture, or gardening tools -- to your storage unit for safe-keeping during the winter. Check out our unit size estimator to determine what size storage unit you'd need.




Trending
At Your Austin Storage, we're seeing more parents and their college students get creative about how they manage the physical transition from high school to college life.
A storage unit can be the perfect summer solution to start storing all the furniture and items needed to set up a dorm room or apartment without cluttering up your home or garage.
If your student is already into their college career, a storage unit can also serve as a good landing pad for dorm items during summer until they return to school in the fall.


Celebrate Mom + Dad
Austin offers a wide array of family-friendly events to help celebrate and make family memories:
May 3-4: Derby Day Austin
May 4: iHeart Radio Country Festival
May 1-12: ZACH Theatre Presents Matilda The Musical
May 12: MOTHER'S DAY
May 23-26: Paramount Summer Classic Film Series
May 28-June 16: Broadway's Hamilton at Bass Concert Hall
Weekends in May: Lake Travis Waterloo Adventures
Weekends in May: Austin Flea Market
June 16: FATHER'S DAY / Gospel Brunch at Stubb's / Rad Dad Lagerfest / Round Rock Express vs. Tacoma Rainiers
Keep Reading
When Storage Means Business
Why Our Mess Causes Stress (And What To Do About It)
Valentine's Day Edition: When Love Equals Living Together
Habits + Habitat: Five Steps to Declutter Your Domain
3 Steps to Increase Your Self-Storage Savvy
Holiday Storage Hacks