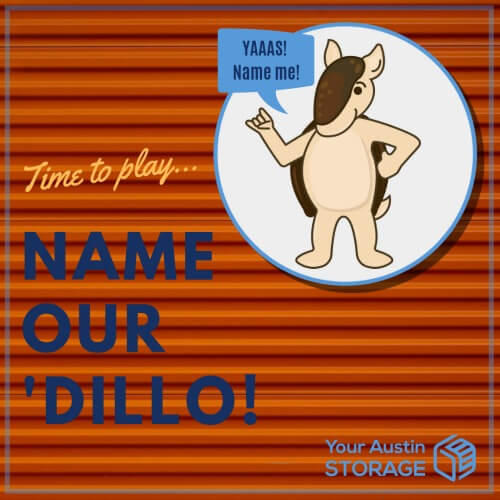 UPDATE: We have our winners...and our 'dillo's name!
7/18/19 UPDATE: We received so many great name suggestions that we decided to extend the contest through Monday, July 15, 2019. We then narrowed down the choices to the top 5 and conducted a survey across all social media channels, which kicked off on Thursday, July 18, 2019. Survey results will be tallied and the winner and two runners-up will be announced no later than Thursday, July 25, 2019.
VOTE FOR YOUR FAVORITE NAME HERE!
Hey! We've adopted a new mascot for Your Austin Storage -- home to Ben White Mini Storage, Mopac Self Storage, and Pond Springs Mini Storage -- and we need your help naming him!
He's a cute little fella, isn't he? Thanks to Sivon Pichoto (our owners' cousin!) for creating him! Whether you're new to the Lone Star State or are a native Texan, you probably know that the armadillo is one of our beloved state animals.
It's name means "little armored one," and with its hard shell it has become symbolic of protection and boundaries. Adopting the armadillo as our mascot seems fitting for us as a storage unit facility whose goal it is to offer shelter to keep our customers' belongings safe and secure.
So, here are the details. We look forward to seeing your name suggestions!
What: The name can be anything. Be creative! A nod to Austin culture might be fun!
Who: Anyone can enter; you don't need to be a current storage unit renter.
How: There are 4 ways to submit your name suggestions:
IN OFFICE: Fill out a form in the front office of the location you rent from. Forms are at the front desk.


FACEBOOK: See the Facebook contest post pinned to the top of all 3 of our FB location pages. Click on contest link in post to be directed to online contest form and rules.
Ben White Mini Storage FB Post
Mopac Self Storage FB Post
Pond Springs Mini Storage FB Post


INSTAGRAM: Click the link in all three of our profiles' bios, or click on 'Dillo mascot Contest Highlight to be directed to online contest form and rules.
Ben White Mini Storage: @benwhiteministorage
Mopac Self Storage: @mopacselfstorage
Pond Springs Mini Storage: @pondspringsministorage


CONTEST FORM: Click here for contest information and rules, and to submit your mascot name suggestion.
When: Contest runs from 8:00AM CST Monday, June 17, 2019 through 11:59PM CST Friday, July 5, 2019.
Prizes:
1st place: $150 VISA gift card
2nd place: $100 VISA gift card
3rd place: $50 VISA gift card
Winner will be notified via email no later than Monday, July 15th 2019.
See complete contest rules here.